To use the SystmOnline web service, you need a username and password which is generated by the surgery. You can now order your repeat prescription online. Click here to login once you have your username and password. If you have any problems using the service please contact the surgery.
(Please note some services may be suspended due to COVID-19):
Signing up to this service will allow you to do the following:
Book appointments
Order repeat prescriptions
View medical records
Access to GP Electronic Health Records
People over 16 can now see new information added to their health record. This includes notes from appointments, test results, and letters. You can view this via the NHS App, NHS website, or another GP online app you use. If you don't want to see your record, speak to your GP.
The NHS App is available now on iOS and Android. To use it you must be aged 13 and over and registered with a GP surgery in England.
You can also access NHS App services from the browser on your desktop or laptop computer.
Use the NHS App to:
get advice about coronavirus

 

– get information about coronavirus and find out what to do if you think you have it
order repeat prescriptions

 

– see your available medicines, request a new repeat prescription and choose a pharmacy for your prescriptions to be sent to
book appointments

 

– search for, book and cancel appointments at your GP surgery, and see details of your upcoming and past appointments
get health advice

 

– search trusted NHS information and advice on hundreds of conditions and treatments, and get instant advice or medical help near you
view your medical record

 

– securely access your GP medical record, to see information like your allergies and your current and past medicines
register your organ donation decision

 

– choose to donate some or all of your organs and check your registered decision
find out how the NHS uses your data

 

– choose if data from your health records is shared for research and planning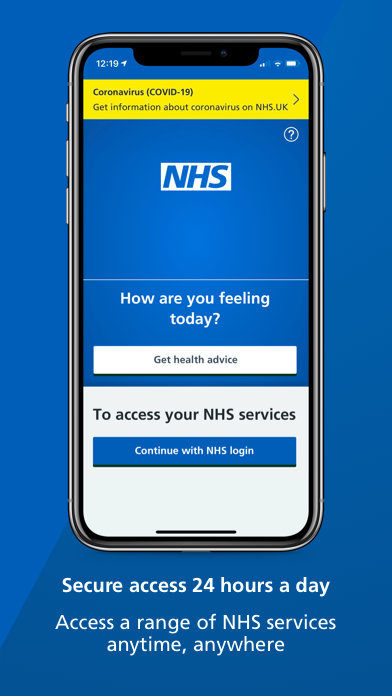 To download the NHS app or to find more information please see below.
Protect your loved ones. Download the app.
The new NHS COVID-19 app, now available to download for free in England and Wales, is the fastest way to see if you're at risk from coronavirus. The faster you know, the quicker you can alert and protect your loved ones and community.
You can find out more information on the NHS COVID-19 app below.